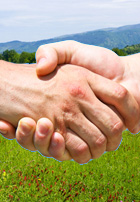 Get to Know Our Team
Mr. Brooks and The Brooks Companies are true experts in the development and marketing of ranch properties, having purchased and sold over 1,000,000 acres in Arizona, Wyoming and New Mexico. Mr. Brooks continues to set the standard of success in the arena of land development. 

The Brooks Companies looks forward to continuing to pursue great real estate ownership opportunities, profitable partnerships and prideful developments for many years to come.
Quick Contact: Comments Questions